BUSINESS AS USUAL, DEWTEC IS OPEN
Dewtec is open under COVID-19 level 3 with some restrictions ans distancing rules
Given you may not be in a position to come to us, please remember we can come to you.
In these challenging times DEWTEC / ENZED is THERE. Call us on 0800 DEWTEC (339832) we are here to help.
ENZED - Hose Doctors - hydraulic hose and fittings
Using the highest quality products, ENZED offers a wide range of fluid connection solutions to numerous markets including: industrial, manufacturing, marine, transportation, agriculture, medical and pharmaceutical, construction and military.
Our product lines include: tube fittings and adapters, instrumentation fittings, rubber compound hoses, thermoplastic hoses, silicon hoses, ultra-high-pressure hoses and fittings, thermoplastic tubing and bundles, PTFE products, quick-disconnect and diagnostic couplings, and instruments, check valves, special products. We also supply engineering services, educational materials and expert systems.
Dewtec is the ENZED franchisee for the Manawatu, Horowhenua and Wairarapa regions. We have six mobile Hose Doctors working from service centres in Levin, Palmerston North and Masterton. ENZED operates a 24 hour service ensuring you'll always have ready access to parts and service when you need it. We offer access to regional service centres in most towns for your convenience - click here for details.
For further product information on hose products, quick couplings, tube fittings & adaptors, Parflex®, Poly Flex and instrumentation click here.
ENZED Products
Hydraulics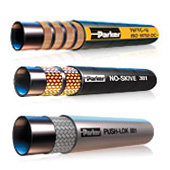 Hose
High Pressure Hose; 4 and 6 wire hydraulic hose from sizes 3/8" to 2" ID for high impulse and high pressure (up to 8,000 psi)
Medium Pressure Hose; 1 and 2 wire hose from sizes 1/4" to 2" ID for all applications up to 6000 psi
Low Pressure Hose; Low Pressure push lock hose 1/4" to 1" for applications up to 400 psi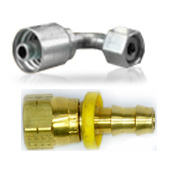 Hose Fittings
Crimp Fittings; One piece non skive crimp fittings to suit, Rubber, Thermoplastic, and PTFE hoses. Available in Steel, Stainless Steel and Brass.
Field Attachable; Reusable fittings to suit Rubber, Thermoplastic and PTFE hoses.  Available in Steel, Stainless Steel and Brass.
Pushlock / Suction; Self gripping fittings for pushlock and suction hoses.  Available in Steel, Stainless Steel and Brass.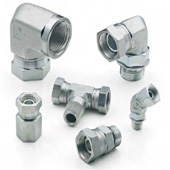 Adapters
Pipe Fittings & Adapters; BSP, UNO, JIC, NPT, Metric, ORFS, SAE adapters in Steel, Stainless steel and Brass.
Conversion Adapters; BSP,JIC, ORFS, Metric, Steel or Stainless Steel
Flange Adapters; Code 61 & 62, SAE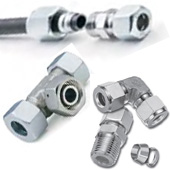 Tube Fittings
Flareless Bite Type; Emerto EO & EO2, Ferulok, metric and imperial sizes  in Steel and Stainless steel.
37deg Flare; Triplelok imperial sizes, Steel, Stainless Steel or Brass
O Ring Face Seal; Seal Lock ORFS, in Steel and Stainless steel.
Instrumentation Tube Fittings; A-Lok tube fittings. available in a broad range of sizes, materials and configurations.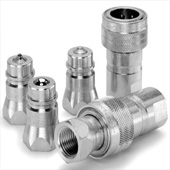 Couplers
General Purpose; Quick couplers for types of equipment, available in Steel Stainless steel and Brass.
Poppet and ball sealing, Parker, Pioneer and Tema 
Non Spill; Steel & Stainless steel, Flat Face, HTMA, ISO, Parker & Tema brands
High Pressure. Up to 10,000psi. Steel & Stainless steel, Parker or Tema